Some historic barns were built so well that they remain useful today and many have been dismantled and repurposed for new custom homes such as the Modern Farmhouses built by Roland Builder in the Harrisburg, PA region. 
Reclaimed barn beams add strength, permanence and solidity while capturing the essence of nostalgic feel of an old farmhouse, with modern upgrades. A Modern Farmhouse that incorporates exposed beams and hardwood flooring not only give the home character but creates an atmosphere of warmth and coziness as your eye is drawn to the take it all in.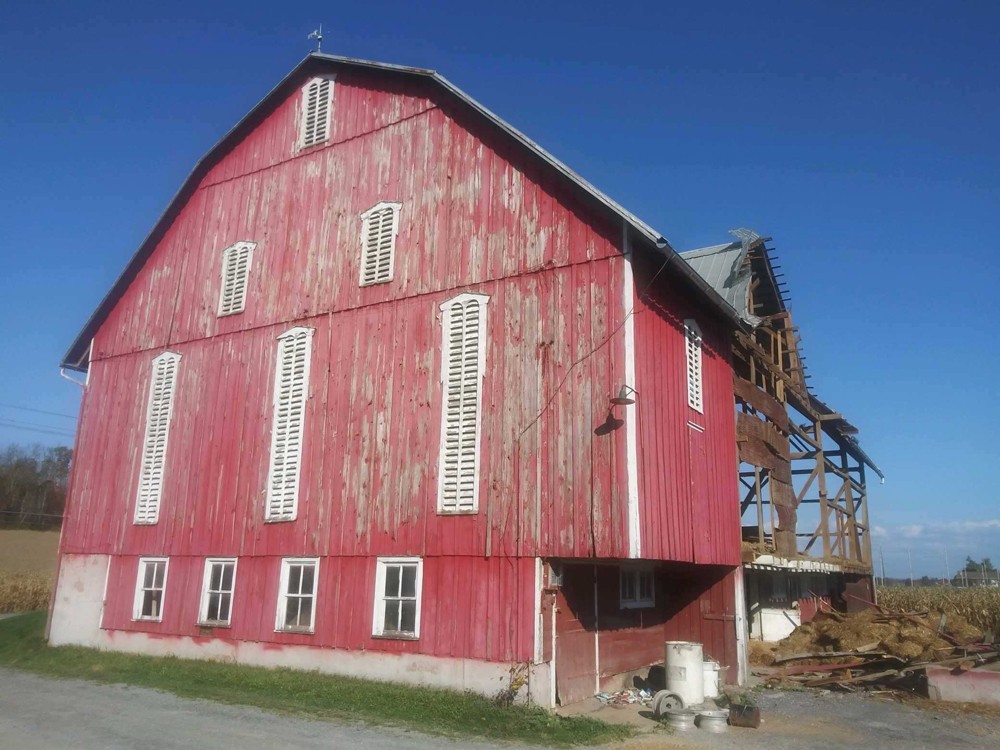 Roland Builder's source believes that the beams used in the Modern Farmhouse pictured at the top came from the Red Barn, in Lewisburg, (Derrstown), PA, which was founded in 1785 by Ludwig Derr when he purchased several tracts of land from the William Penn Family. Mr. Derr had befriended the local Native Americans and together turned Lewisburg into a commercial center for a fertile grain and general farming community. 
Barns such as the Red Barn pictured were used for dairy farming in fertile grain and general farming communities. The first floor of this barn would have held a milking parlor while the second story would have been used for hay storage, grain storage and farm implements.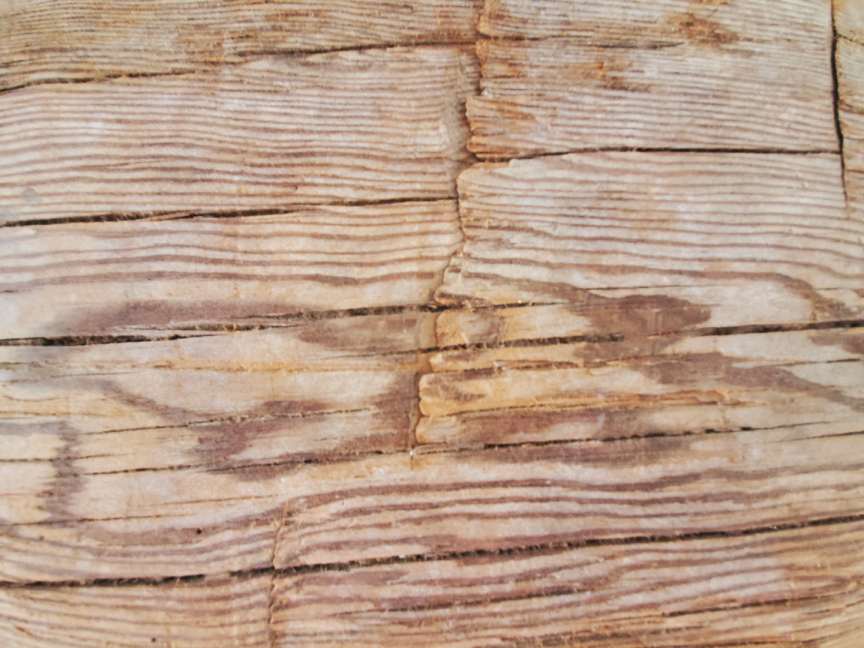 Before electric saws were invented, timbers were laboriously cut by hand.  The texture and cut marks created by the hand saw provide an aesthetic that can take us back to a time when building materials were made through sweat, blisters, and hard work. The builders of the past probably had no idea that one and two hundred years later their beams and hard work would be so appreciated and so much value aesthetically.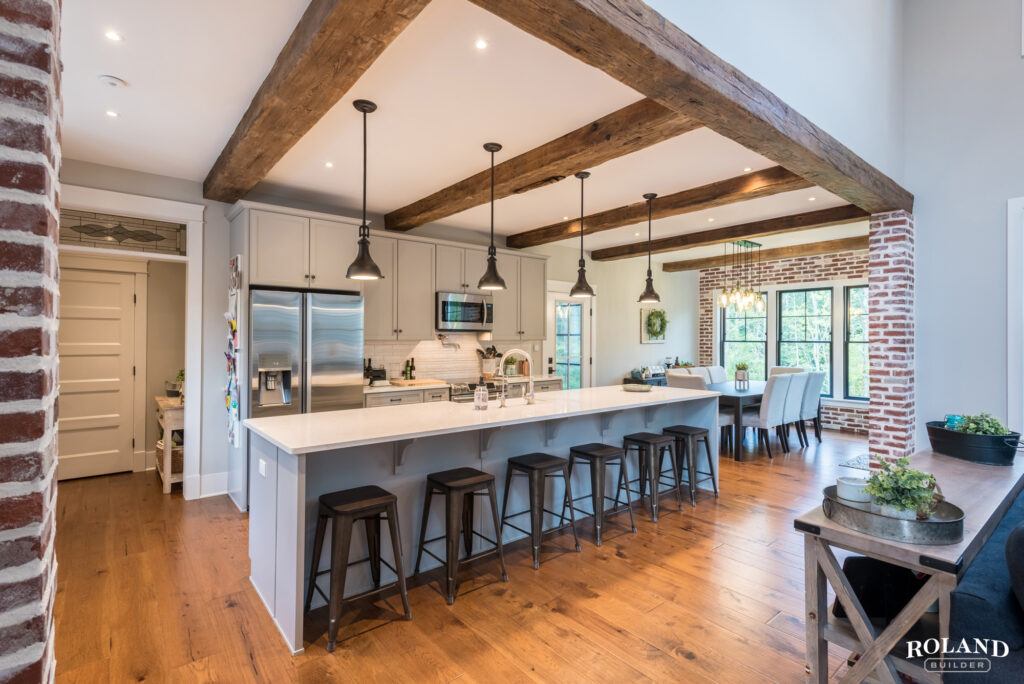 Making barn beams from the past new again for a Modern Farmhouse adds to the country style appeal but comes off as being much more contemporary and sophisticated.
There's no denying that exposed beams like the ones used in a Roland Builder Modern Farmhouse add an impressive flair bringing depth and dimension to ceilings and other areas of the home.
Making old barn beams new in a Modern Farmhouse adds a country style appeal but comes off as being much more contemporary and sophisticated.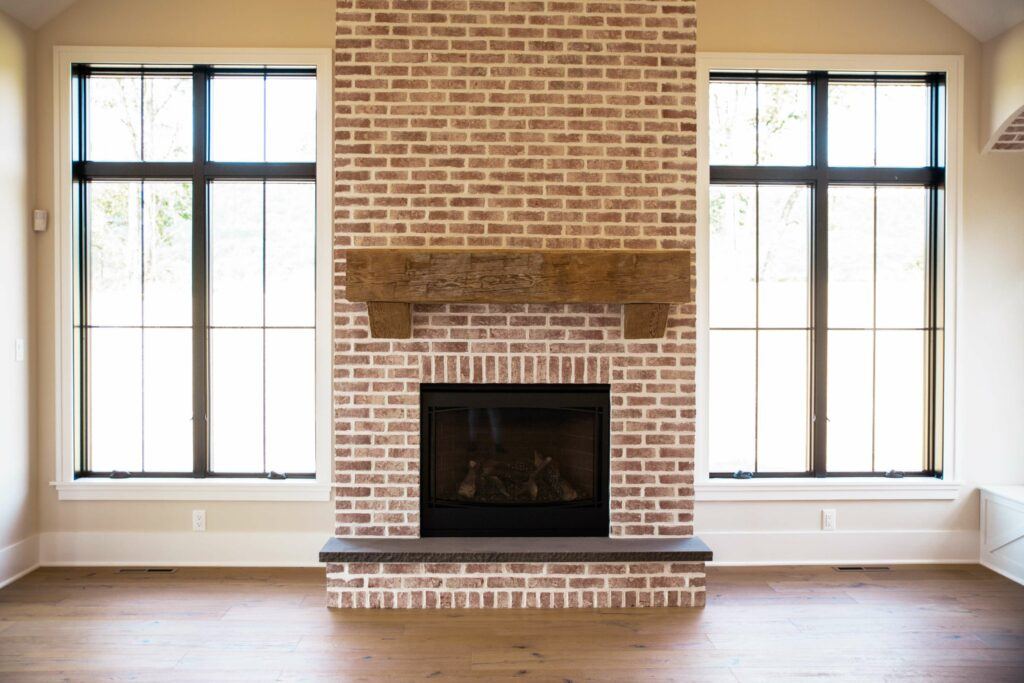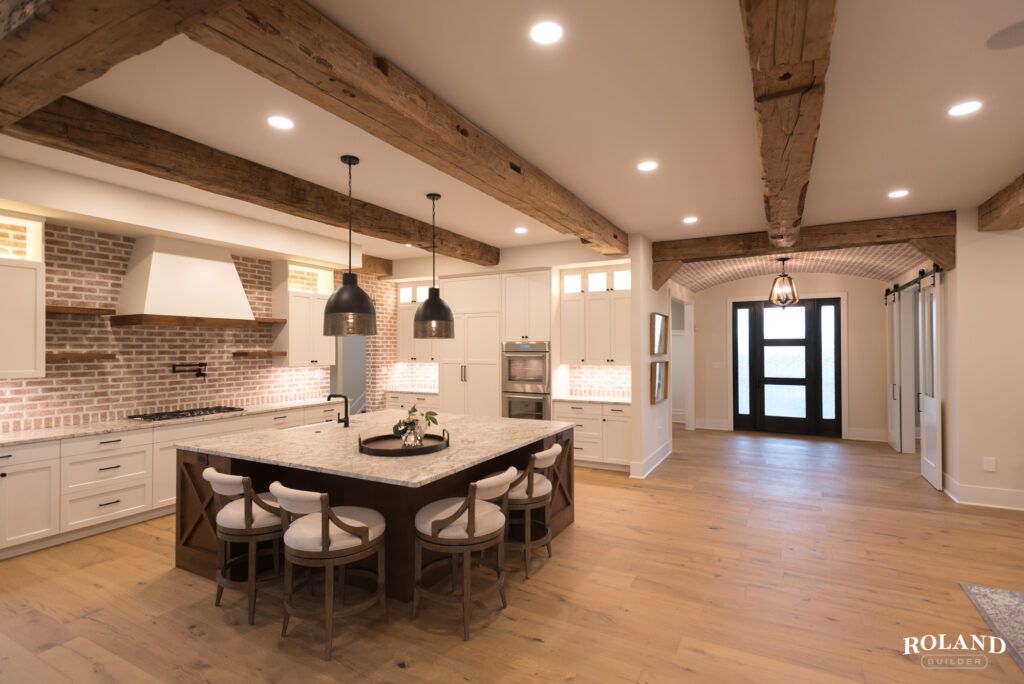 Roland Builder is Central PA's Premier Custom Home Builder since 1976 and has won numerous awards through the years with the most recent being the 2021 PA Parade of Homes, Best Craftmanship for a Single-Family Home in the $1,000,000+ category. See the award-winning Glendale Estates Modern Farmhouse along with others built by Roland Builder here.
**Fun Fact! Ludwig Derr set off to Philadelphia to sell additional lots of his land in Lewisburg and disappears from history in that city. His family searched for him, but he was never found! Barns in Lewisburg were frequented by abolitionists during the Civil War. Several locations within the town and surrounding farmlands served as stopping points on the famous Underground Railroad. Perhaps even the red barn pictured at the top!